Architectural Design Students Unveil Innovative Bike Racks Using Reclaimed Ash Wood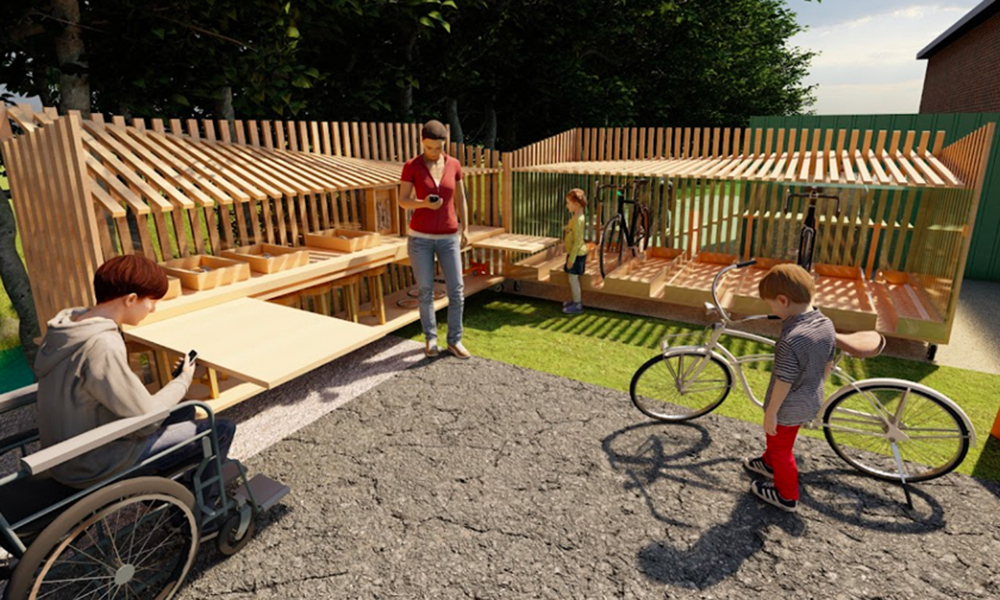 Friday, Assistant Professor of Architectural Design Nick Brien and 15 students will unveil an innovative bike storage and repair station they built specifically for children at JMU Occupational Therapy Clinical Education Services. The design incorporates Americans with Disabilities Act dimensions and standards that cater to children in wheelchairs and of varying abilities.
The outdoor ribbon cutting behind ArtWorks Gallery at 131 W. Grace St. at 3 p.m. will offer demonstrations and refreshments. The students of the School of Communication Studies organized a press event from 4 p.m.
Brinen scheduled the semester-long Design-Build Studio class expressly to meet this need identified by the JMU facilities staff member Wendy Schwister. The process not only provided the students with experience in planning and building the station, but it also gave them the opportunity to organize meetings for professional discussions with their client and partners.
The students worked closely with Harrisonburg Public Works and the Virginia Forest Department. HPW donated approximately 60 planks of machined ash wood for the primary building material through the Virginia Urban Wood Program to raise awareness about the harmful emerald ash borer, a xylophagous pest that destroys ash trees kills tree species throughout Virginia.
The station works like a Swiss army knife, in that it "unfolds" to reveal many functions, such as tool storage, bike storage/security, work surfaces, bike racks, air pumps, seats and shade structure. Eight tool kits will be stored and provided at the workstation.
Brinen hopes to continue using Safe ash wood and to collaborate with organizations outside of JMU in future projects like this. As one of 10 finalists in 2022, he pitched the idea to the Madison Trust in March for funding and received more than 100% of his $11,000 goal. These funds will cover milling fees, material costs and student research stipends for three more public projects over the next three years.