Gauri Khan: The Class Act of Interior Design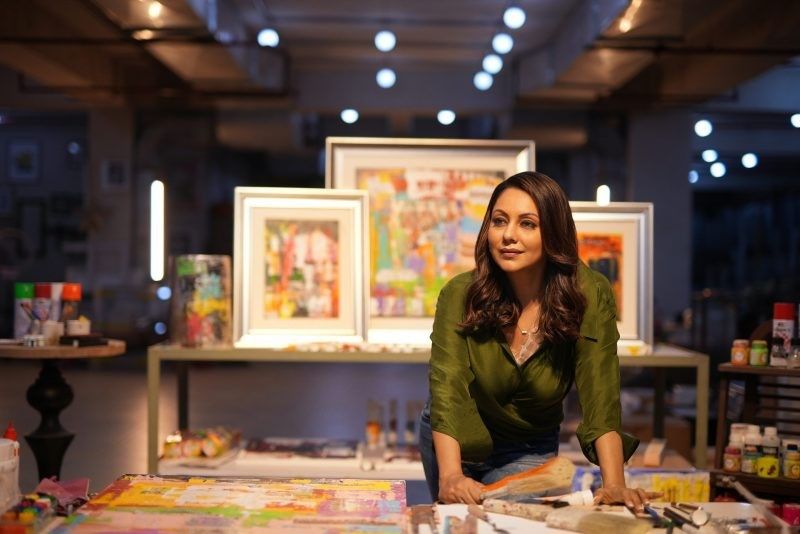 TRANSFORMER: Gauri Khan
By: ASJAD NAZIR
GAURI KHAN GOES GLOBAL WITH NEW ONLINE COURSE
There is so much more to Gauri Khan than being the wife of Bollywood superstar Shah Rukh Khan.
She is a respected entrepreneur, film producer, famous interior designer and a strong symbol of power for dedicated working mothers. Her interior design skills were particularly appreciated for an artistic approach to the transformation of interior spaces.
Now, after leading the way with her creativity, knowledge and eye for detail, the celebrated interior designer will share her immense expertise with an in-depth online workshop with global online education disruptor, The Designer's Class. She joins an exclusive roster of celebrity mentors and industry experts on an exciting new platform dedicated to tackling traditional design education head-on, with a six-module online course that empowers designers of all levels to forge their own signature approach.
eastern eye caught up with Gauri Khan to discuss the globally accessible course and top interior design tips, including for those with smaller spaces and limited budgets. She also revealed what her husband Shah Rukh Khan's interior design skills look like.
What first connected you to interior design?
Design is something that has always fascinated me. Growing up, I was very into art and culture. Design and design curation, I felt, came naturally to me. The spaces we live in are crucial to our overall development and creating these spaces for creativity has given me immense joy.
When did you realize you were really good at it?
Well, you know how the artist's curse works. An artist can never fully enjoy his work. But I think the first time I realized I could be commercially successful was when I put my ideas together when designing our house 'Mannat' and all the designs came together to form a beautiful union of landscapes. Hearing positive reviews from friends and family also helped a lot.
What was your most memorable interior design project?
I have to say it's Mannat. It's so personal and an ever-evolving project for me as I keep redoing corners of the house, including my kids' bedrooms, so I have to say it's Mannat.
What kind of creative approach does interior design require?
I think the most important part is space navigation. I believe the design should provide ease of movement for the customer. Everything should be accessible, convenient and not cluttered at all. Open spaces encourage open-mindedness.
What led you to set up your online courses?
Learning is a process that has always intrigued me and helped me stay ahead of the game in this industry. It's no wonder then that I would love to share my experience in the industry with future designers. My collaboration with The Designer's Class is an ideal and organic evolution of my love for learning. It gives me the opportunity to share my professional experiences with people who love design as much as I do.
Tell us about the courses?
The courses consist of modules focused on the key areas of interior design. The Designer's Class course educates students on the basics of interior design which encompasses learning various elements such as terminology, standards, lighting, and planning an interior space. The fundamentals teach the student how to carry their inspiration forward in realistic design projects.
Tell us something about what's included?
The module includes courses that detail the process a designer must go through when designing interiors for different spaces such as offices, residents and retail stores. It also takes the most crucial elements of interiors like lighting and illustrates how it can be created for various spaces to get the most out of them. Looking to the future, the module also educates students on the use of sustainable practices for interior design.
Who do you hope to connect with online courses?
Design aspirants and anyone interested in interior design can access this course. The Designer class and I ensured that the modules provided the basics as well as an advanced look at interior design and its aspects.
What about courses for ordinary people and beginners?
Absolutely! Beginners can also take this course. We have curated various sets for this course that cover interior design from foundational areas to advanced topics. First-time learners can repeat the core module that is included in each module, which will help them move on to other topics.
What design advice would you give?
A solid foundation is key to creating lasting impact through your design. This can only happen when our research and understanding of space expectations is infallible. So be your client's confidante. Other than that, I would say the focus is on the lighting as it has the power to completely change the mood of the space.
What are common mistakes?
A common mistake I've noticed is people trying to add a lot of styles to the same space. Try to find your own style and stick to that theme. That way, they'll stay in your comfort zone and want to spend more time there.
What advice would you give to those working on a small budget to create a beautiful interior?
Designing spaces doesn't have to be expensive. You can keep the space minimal which also makes it less cluttered. Invest in key, timeless pieces that serve both utility and aesthetics. Sourcing at vintage stores is also a great way to find unique pieces.
What about those with smaller spaces?
Again, declutter. Use lighter colors and mirrors that expand the space. Get creative with storage, and more importantly, use a signature piece, for example, a sofa, wallpaper, or signature wall, and go all out. Let it be the focal point of your design that grabs attention and interest.
What are the interior design skills of your husband Shah Rukh Khan?
I would say he has a keen eye for interiors. He was extremely passionate while the Red Chillies office overhaul was underway. He had a huge say in the design and input on colors and possible ceiling and floor uses. He has taken a great interest in this project and likes to get involved as much as possible. He informed all the designs for the project.
What's the secret to being a successful working mom?
Balance. The right balance between your professional life and your family time is very important. I try to prioritize my time with my children and also manage my work better. I always like to plan my schedule in advance, which gives the perfect work-life balance.
What inspires you creatively?
I think most of my inspiration comes from my travels. Architectural styles, designs and cultures inspire me a lot. Every time I travel, a small part of my experiences stays with me and comes out as a kaleidoscopic result in my creations. So whenever I feel like I've exhausted all my creativity, I try to visit places that can give me artistic inspirations.
Why should we connect with classes?
Designer's Class' association with Gauri Khan Designs is an organic evolution born out of a shared passion for good design, creative spaces and an intention to give back to the industry. Together we bring design education that is shaping the new era of interior design, inspiring and educating younger generations and giving them the skills to succeed.
To learn more about The Designer's Class and its lineup of celebrity instructors, visit www.thedesignersclass.com